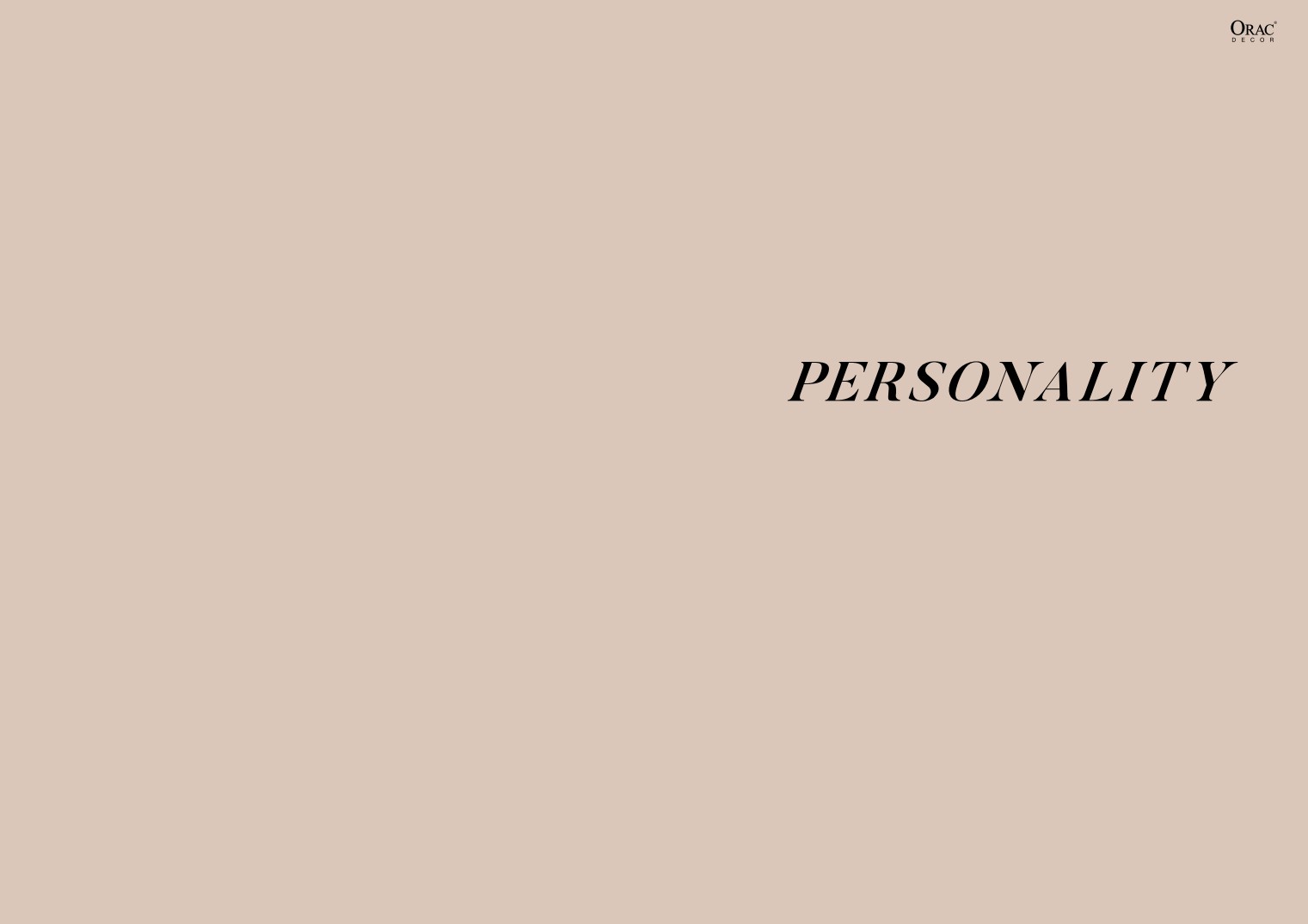 Zeigen Sie, wer Sie sind.
Whoever you are, wherever you live, you
Wie je ook bent. Waar je ook woont. Jij
Qui que vous soyez. Quel que soit l'endroit
Wer auch immer Sie sind. Wo auch immer
Sea quien sea. Viva donde viva. Usted
are you and you want to show it. In your
bent jij en dat wil je tonen. In je woning,
où vous habitez. Vous êtes vous et vous
Sie wohnen. Sie sind Sie und das wollen Sie
es como es y así quiere mostrarse. En su
house, in your environment, in the place
in je omgeving, in de plek die jij thuis
voulez le montrer. Dans votre logement,
zeigen. In Ihrer Wohnung, in Ihrem Umfeld,
vivienda, en su entorno, en el lugar al que
you call home. Find your own style and put
noemt. Ga voor je eigen stijl en zet je
dans votre environnement, dans l'endroit
an dem Ort, den Sie Ihr Zuhause nennen.
llama hogar. Encuentre su propio estilo y
your personality in the spotlight. Whether
persoonlijkheid in de verf. Magistraal
que vous considérez comme votre foyer.
Entscheiden Sie sich für Ihren eigenen Stil
refleje su personalidad. Magistralmente
you prefer a masterful modern or character-
modern of karaktervol klassiek: met deze
Affirmez votre propre style et mettez votre
und heben Sie Ihre Persönlichkeit hervor.
moderno o clásico: con esta colección de
filled classic style, this collection of original
collectie originele plinten, sierlijke kroon-
personnalité en avant. Carrément moderne
Meisterhaft modern oder charaktervoll
zócalos originales, decorativas cornisas
skirting boards, elegant cornices, stylish
en wandlijsten en innovatieve indirecte
ou typiquement classique : cette collection
klassisch: Mit dieser Kollektion originaler
y molduras y la innovadora iluminación
panel mouldings and innovative indirect
verlichting tover je je huis om tot een
de plinthes originales, de corniches et de
Sockelleisten, eleganter Fries- und
indirecta, convertirá su casa en un lugar de
lighting will transform your house into a
droomplek die barst van karakter. Een
cimaises élégantes et d'éclairage indirect
Wandleisten und innovativer indirekter
ensueño lleno de personalidad. Un lugar
dream home. A unique place that says who
unieke plek die zegt wie jij bent en hoe jij
innovant va transformer votre maison en
Beleuchtung verwandeln Sie Ihr Zuhause in
único que muestra quién es usted y cuál
you are and how you approach life. But
in het leven staat. Maar genoeg over ons:
un lieu de rêve éclatant de caractère. Un
einen traumhaften Ort voller Charakter. Ein
es su actitud en la vida. Pero dejemos de
enough about us: let's talk about you.
endroit unique qui révèle votre personnalité
einzigartiger Ort, der zum Ausdruck bringt,
hablar sobre nosotros: ¿quién es usted?
et votre manière de voir la vie. Mais assez
wer Sie sind und wie Sie leben. Wir haben
parlé de nous: qui êtes-vous ?
genug über uns gesprochen: wer sind Sie?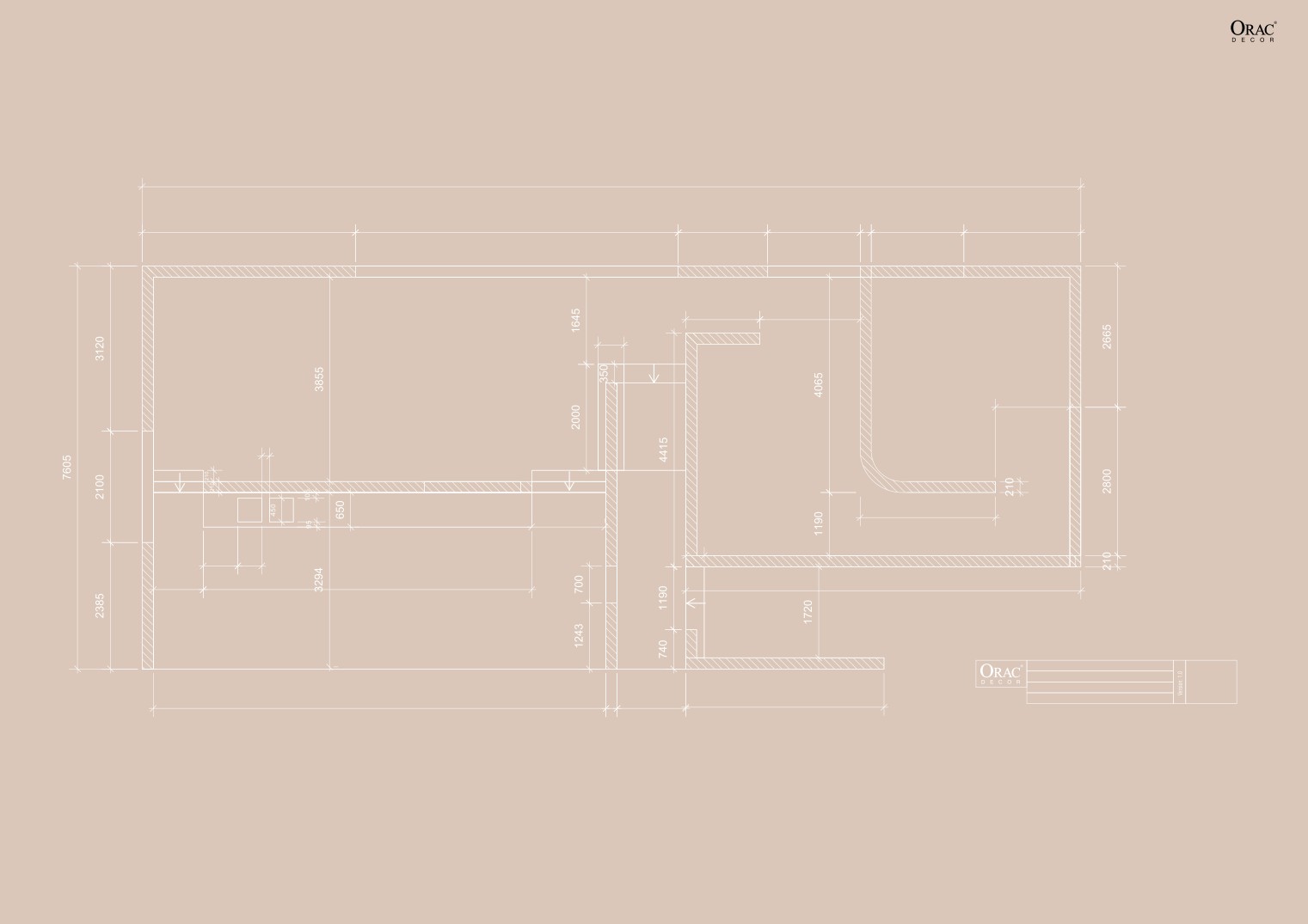 PROJECT_ ORAC FREE YOUR PERSONALITY HOUSE
Votre style, votre espace.
From living room to bedroom, kitchen to
Van woonkamer tot slaapkamer, van
Du salon à la chambre à coucher, de la
Von Wohnzimmer bis Schlafzimmer, von
Desde la sala de estar hasta el dormitorio,
bathroom: be inspired by our projects and
keuken tot badkamer: laat je inspireren
cuisine à la salle de bains : laissez-vous
Küche bis Badezimmer: lassen Sie sich von
desde la cocina hasta el cuarto de baño:
create your own dream world.
door onze ideëen en creëer je eigen
inspirer par nos idées et créez votre propre
unseren Beispielen inspirieren und gestalten
déjese inspirar por vuestras ideas y cree su
The only limit is your own creativity.
Sie Ihre eigene Traumwelt.
Welcome to your interior.
De enige beperking is je eigen creativiteit.
Votre créativité sera votre seule limite.
Die einzige Einschränkung ist Ihre eigene
La única limitación es su propia creatividad.
Welkom in jouw interieur.
Kreativität. Willkommen in Ihrem Interieur.
Bienvenido a su interior.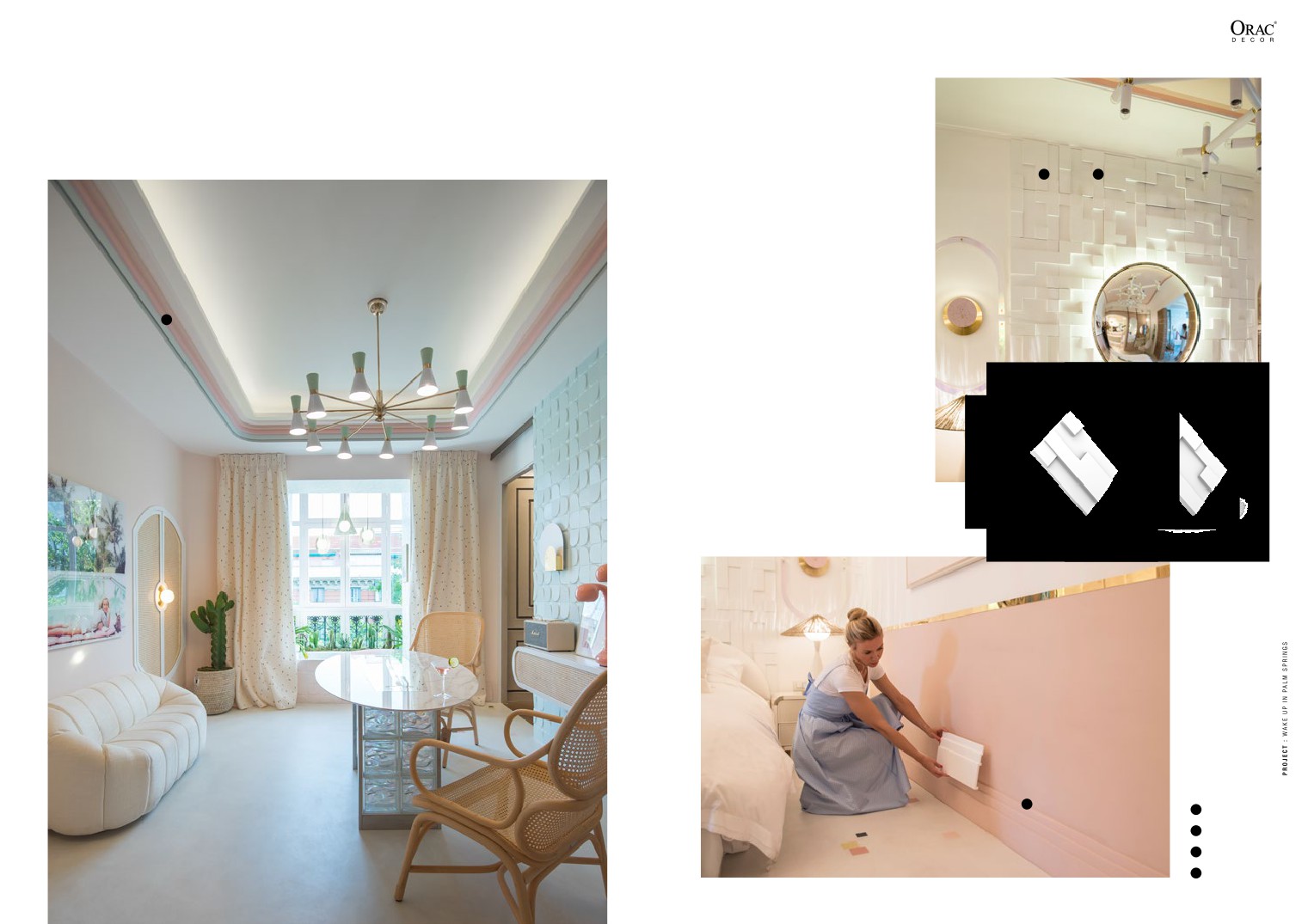 This interior takes you back to the iconic American
architecture of the 1970s in Palm Springs. Interior
specialist Patricia Bustos de la Torre gives this
bedroom and bathroom the summer vibes of
California with some soft pastels and curved
Dit interieur voert je terug naar de iconische
Amerikaanse architectuur van de jaren '70 in Palm
Springs. Interieurspecialiste Patricia Bustos de la
Torre vertaalt de zomerse vibes in een slaap- en
badkamer met zachte pasteltinten en gebogen
Cet intérieur rappelle l'architecture américaine
typique des années '70 à Palm Springs. La
spécialiste de l'intérieur, Patricia Bustos de la Torre,
traduit l'atmosphère estivale dans une chambre à
coucher et dans une salle de bains à l'aide de doux
tons pastel et de courbes.
Diese Innenraumgestaltung führt Sie zurück zur
ikonischen amerikanischen Architektur der 70er
Jahre in Palm Springs. Innenarchitektin Patricia
Bustos de la Torre setzt in einem Schlaf- und
Badezimmer die Sommerstimmung mit weichen
Pastelltönen und geschwungenen Formen um.
Este interior le remonta a la icónica arquitectura
americana de los años 70 en Palm Springs.
La experta en interiores Patricia Bustos de la
Torre trasmite las sensaciones veraniegas en un
dormitorio y cuarto de baño con suaves tonos
pastel y formas arqueadas.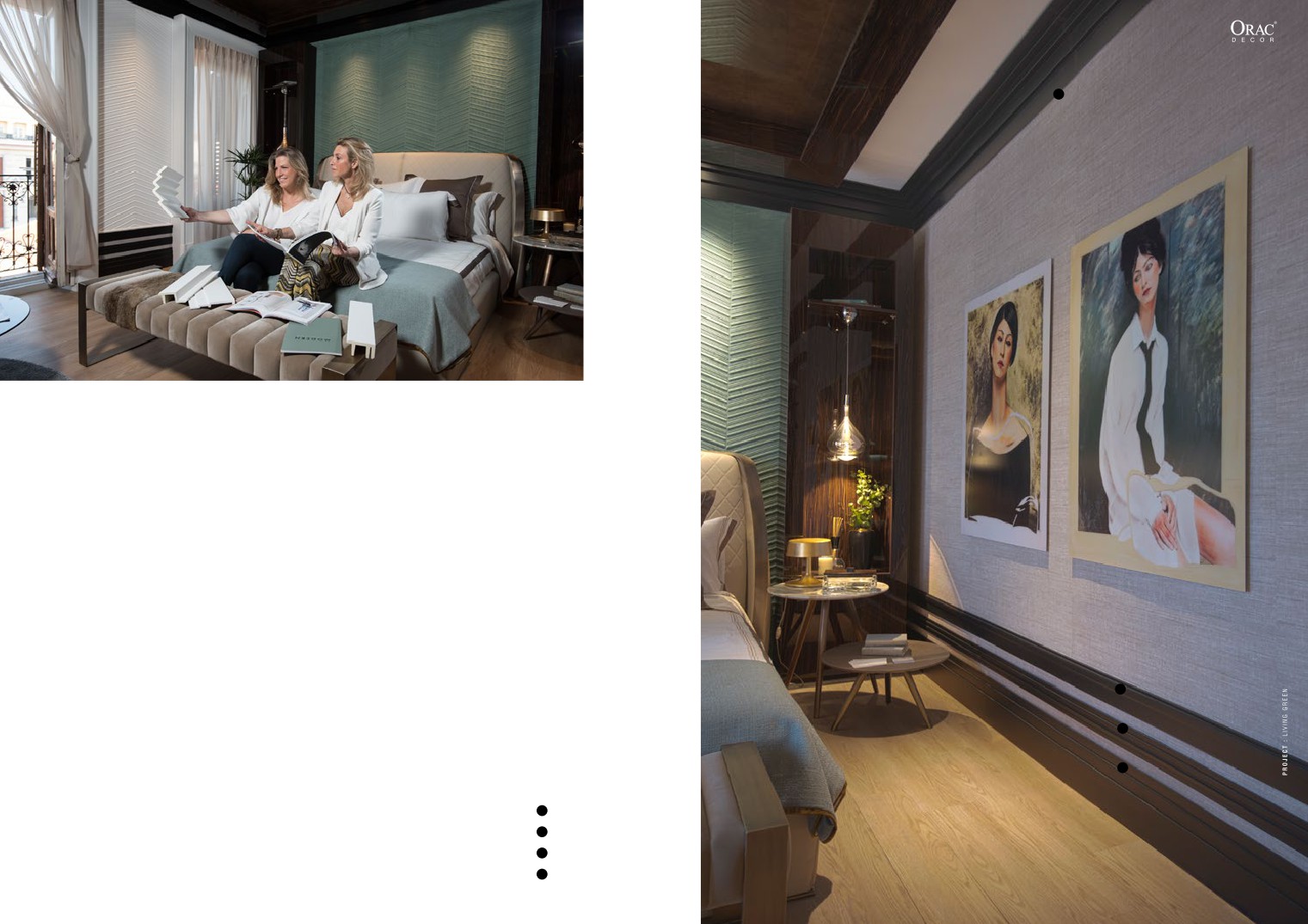 Interior architects Inmaculada Recio and Silvia
Auf der Casa Decor 2017 in Madrid stellten die
Trigueros presented their 'Living Green' suite at Casa
Innenarchitekten Inmaculada Recio und Silvia Trigueros
ihre Suite "Living Green" vor.
Their aim was to combine masculine and feminine
In dieser stilvollen Suite wollten sie den männlichen
styles in this stylish suite. They united the best of both
und weiblichen Stil miteinander verbinden. Sie haben
worlds to create a classy, lively interior.
das Beste von beiden kombiniert und so ein edles und
rassiges Interieur geschaffen.
Tijdens Casa Decor 2017 in Madrid presenteerden
interieurarchitecten Inmaculada Recio en Silvia
Durante la edición de Casa Decor 2017 en Madrid,
Trigueros, hun suite "Living Green".
las arquitectas de interiores Inmaculada Recio y Silvia
In deze stijlvolle suite wilden ze de mannelijke
Trigueros presentaron su suite "Living Green".
en de vrouwelijke stijl met elkaar verbinden. Ze
En esta elegante suite querían unir el estilo masculino
combineerden het beste van de twee en creëerden
con el femenino. Combinaron lo mejor de los dos estilos
zo een klassevol en pittig interieur.
y crearon así un interior con clase y vida.
Pendant Casa Decor 2017 à Madrid, les architectes
d'intérieur Inmaculada Recio et Silvia Trigueros ont
présenté leur suite "Living Green".
Cette suite élégante avait pour objectif d'associer
le style masculin et féminin. Elles ont combiné le
meilleur des deux mondes et ont créé un intérieur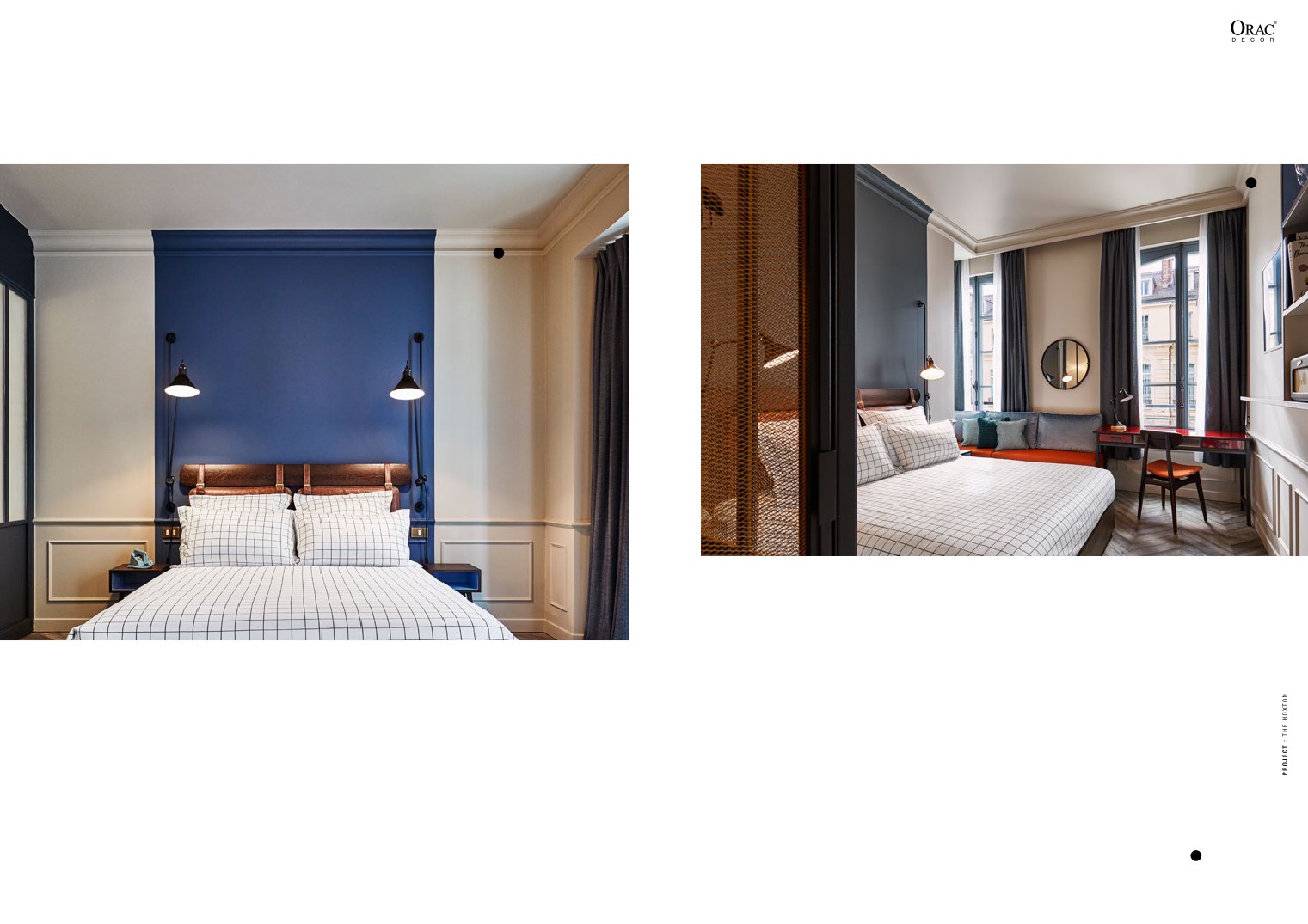 The ornate façade and cast-iron balconies of
Das stattliche Hotel mit schmiedeeisernen Balkons
the hotel exude pure class. Inside the rooms, the
und einer Fassade voller Ornamente strahlt pure
panelling and cornice mouldings accentuate the
Klasse aus. In den Zimmern sorgen die Täfelung und
sense of grandeur, as does the interplay between the
die Friesleisten in Verbindung mit dem Farbenspiel für
die Fortsetzung dieser Pracht.
Dit statige hotel, met de smeedijzeren balkons en
El solemne hotel, con balcones de hierro forjado
een façade vol ornamenten, straalt pure klasse
y su fachada ornamentada, irradia clase. En las
uit. In de kamers zorgen de lambrisering en de
habitaciones, las molduras y las cornisas junto con el
kroonlijsten, in combinatie met het kleurenspel, voor
juego de colores prolongan este esplendor.
de verderzetting van deze grandeur.
L'hôtel majestueux, avec ses balcons en fer forgé et
sa façade joliment décorée, exprime une élégance
rare. Les lambris et les corniches, combinés au jeu de
couleurs, prolongent cette impression de grandeur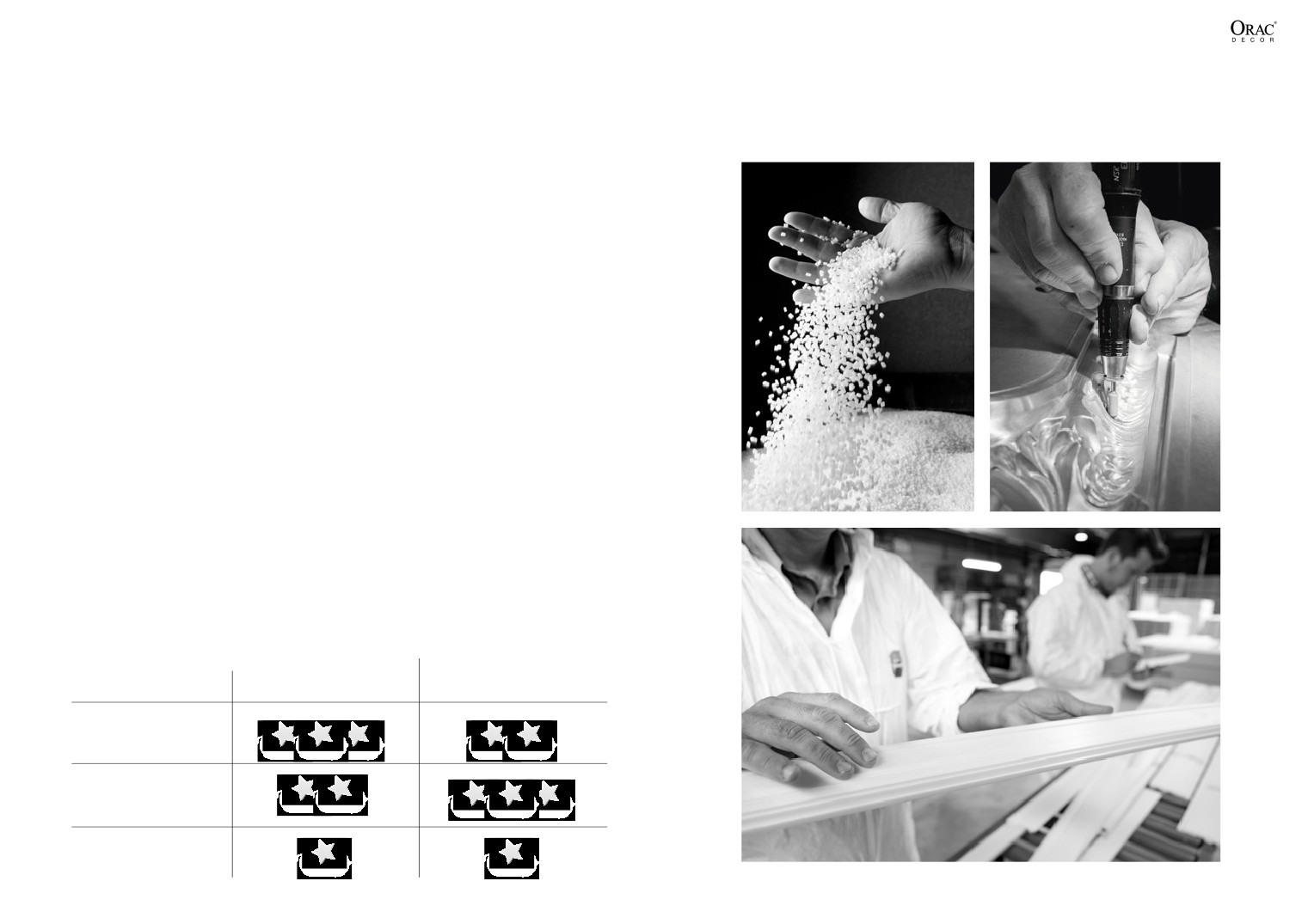 A high-quality, high-density polyurethane
A wide range of cornice mouldings, panel
that allows fine details.
mouldings and skirting boards are also
available in a flexible version.
Een kwalitatieve polyurethaan van hoge densiteit die
scherpe details mogelijk maakt.
Een groot aantal kroonlijsten, wandlijsten en plinten zijn
verkrijgbaar in een flexibele variant.
Un polyuréthane de qualité à haute densité qui permet de
De nombreuses corniches, cimaises et plinthes sont
disponibles dans des modèles variés.
Ein qualitativ hochwertiges Polyurethan hoher Dichte, das
schöne Details möglich macht.
Sehr viele Fries-, Wand- und Sockelleisten sind in flexibler
Un poliuretano de alta densidad y calidad con el que
Hay disponible una variante flexible parauna gran
variedad de cornisas, molduras y zócalos.
An extruded and impact-resistant polymer
An extruded lightweight polymer based on a
based on a high-density polystyrene.
medium-density polystyrene blend.
Geëxtrudeerde en impactbestendige polystyreenmix van
Geëxtrudeerde lichtgewicht polystyreenmix van medium
Un polymère extrudé résistant aux impacts à base d'un
Un polymère léger extrudé à base d'un mélange de
mélange de polystyrènes haute densité.
polystyrènes de densité moyenne.
Extrudierter und schlagfester, hochdichter Polystyrol-Mix.
Extrudiertes, leichtes Polymer auf der Grundlage eines
Polystyrol-Mix mittlerer Dichte.
Polímero fabricado por extrusión, resistente a impactos
fuertes a base de una mezcla de poliestireno de alta
Polímero extrusionado de peso ligero a base de una
mezcla de poliestireno de densidad media
.
MULTIFUNCTIONEEL I MULTIFONCTIONNEL
MULTIFUNKTIONAL I MULTIFUNCIONAL
zowel als wand-, kroonlijst,
deuromlijsting of plint gebruikt
230 x 4 x 1 cm (DX162-2300)
230 x 5 x 1,3 cm (DX182-2300)
200 x 5 x 1,3 cm (DX182F)
possibilities. One and the same
element can be used as panel
moulding, cornice moulding,
door surround and as skirting
Des profils avec des possibilités
illimitées. Un même profil peut
être utilisé comme décoration
murale: comme encadrement
de porte, corniche, cimaise ou
230 x 6,6 x 1,3 cm (DX157-2300)
230 x 7,5 x 1,3 cm (DX183-2300)
230 x 10,2 x 1,3 cm (DX163-2300)
Möglichkeiten. Das Gleiche
200 x 6,6 x 1,3 cm (DX157F)
200 x 7,5 x 1,3 cm (DX183F)
200 x 10,2 x 1,3 cm (DX162F)
Element kann als Wandleiste,
Eckleiste, Türumrandung oder
Sockelleiste verwendet werden.
Molduras con un sinfín de
posibilidades. El mismo y único
elemento se puede utilizar
como moldura, cornisa, marco
para puertas o como zócalo.
230 x 11 x 1,3 cm (DX184-2300)
200 x 11 x 1,3 cm (DX184F)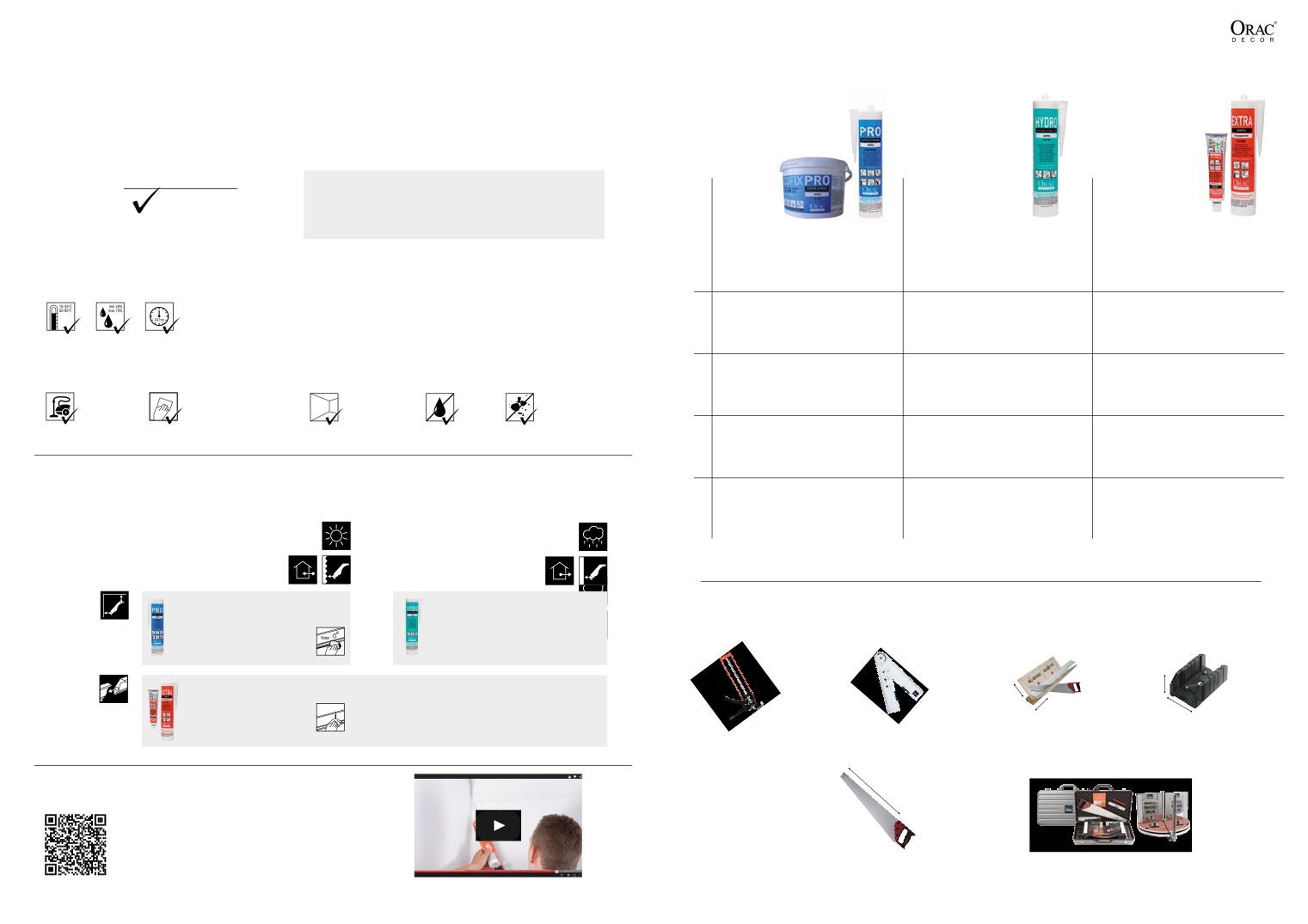 De perfecte afwerking / La finition parfaite
Das Perfekte Finish / El acabado perfecto
ONLY FULL GUARANTEE WITH DECOFIX
VOLLEDIGE GARANTIE ENKEL BIJ GEBRUIK VAN DECOFIX
GARANTIE TOTALE UNIQUEMENT AVEC COLLE DECOFIX
VOLLSTÄNDIGE GARANTIE NUR BEI DER VERWENDUNG VON DECOFIX
GARANTÍA COMPLETA SÓLO SI SE UTILIZA DECOFIX
Extra strong installation adhesive for porous surfaces
Extra strong MS polymer glue for exterior applications,
Polyurethane-based glue to seam joints between mouldings
and interior applications
non-porous (tiles, glass, ...) surfaces and damp environments
· Remove excess glue before hardening
· Strong, water-based acrylic glue
· Remove with soap solution
(max. 1 hour and repeat after 2-3 hours)
· Long-lasting seal between mouldings and the wall and/or ceiling
· Paintable after hardening (min. 24 hours)
· Clean with acetone or Synth Thinner
· Remove with humid sponge or cloth
· Can be painted after 24 hrs
· Should be kept frost free
· The more humidity, the faster the drying time
Omgeving & Ondergrond | Environnement & Surface | Umgebung & Untergrund | Ambiente & Superficie
· Paintable after hardening (min. 24 hours)
Extra sterke installatielim voor poreuze ondergrond
Extra sterke MS-polymeerlim voor buitengebruik,
Lim op polyurethaanbasis voor naadverbindingen tussen profielen
Storage and installation conditions: Store profiles and adhesives at room temperature and wait 24
op niet-poreuze (tegels, glas,...) ondergrond en in vochtige ruimtes
· Verwider de overtollige lim vóór uitharding
· Sterke acryllim op waterbasis
· Verwider met een zeepoplossing
(herhaal na max. 1 uur en na 2 tot 3 uur)
· Langdurende verbinding tussen profielen en muur en/of plafond
· Overschilderbaar na uitharding (min. 24u)
· Maak schoon met aceton of synthetische verdunner
Opslag- en plaatsingsvoorwaarden: Plaats profielen en lijmen 24 uur vóór de installatie op kamertemperatuur.
· Verwider met een vochtige spons of doek
· Overschilderbaar na 24 uur
Conditions d'installation et de stockage: Stockez les profils et les colles à température ambiante 24 heures avant la pose.
· Hoe hoger de vochtigheidsgraad, hoe sneller de droogtid
Lager- und Installationsbedingungen: Profile und Kleber 24 Stunden vor Verlegung bei Zimmertemperatur lagern.
· Overschilderbaar na uitharding (min. 24u)
Condiciones de almacenamiento y de instalación: Colocar molduras y adhesivos en el lugar 24 horas antes de la aplicación.
Colle d'installation ultra forte pour surfaces poreuses
Colle au MS polymère extra forte pour utilisation extérieure,
Colle polyuréthane pour l'assemblage des joints entre les moulures
et applications intérieures
surfaces non poreuses (carrelage, verre, etc...) et environnements
· Éliminez les excès de colle avant le durcissement
· Colle forte à base d'eau et d'acrylique
(1 heure max. et recommencez après 2-3 heures)
· Joint longue durée entre les moulures et le mur et/ou le plafond
· Enlevez à l'aide d'une solution savonneuse
· Nettoyez avec de l'acétone ou un diluant synthétique
· Retirez à l'aide d'une éponge ou d'un chiffon humide
· Peut être peinte après séchage (min. 24 heures)
· Peut être peint après 24 h
· Doit être conserveé à l'abril du gel
· Un taux d'humidité plus élévé peut accélérer le temps de séchage
Schuur en reinig de ondergrond
· Peut être peinte après séchage (min. 24 heures)
Poncez et nettoyez la surface
Schleifen und reinigen Sie den Untergrund
Extra starker Montagekleber auf saugenden Untergründen
Superficie lavada y arenosa
Besonders starker MS-Polymerkleber für den Außenbereich,
Polyurethanbasierter Kleber für die Nahtverbindungen
auf nicht porösem (Fliesen, Glas, ...) Untergrund
· Starker, wasserbasierter Acrylkleber
· Überschüssigen Kleber vor dem Aushärten entfernen
· Langhaltende Verbindung zwischen Profilen und Wand und/oder Decke
· Mit Seifenlösung entfernen
(nach 1 Std und nach 2-3 Std wiederholen)
· Mit leicht feuchtem Schwamm oder Tuch entfernen
· Anstrichverträglich nach Aushärtung (min. 24 St.)
· Mit Aceton oder synthetischem Verdünner reinigen
· Nach 24 Std überstreichbar
· Anstrichverträglich nach Aushärtung (min. 24 St.)
· Je höher die Luftfeuchtigkeit, desto kürzer die Trockenzeit
Adhesivo superfuerte para soportes porosos
Adhesivo MS polímero extra fuerte para aplicaciones al exterior,
Adhesivo a base de poliuretano para unir las piezas entre si
y aplicaciones en el interior
superficies no porosas (cerámica, vidrio, ...) y lugares húmedos
· Eliminar cola excesiva antes de endurecer
· Fuerte, cola acrílica con base de agua
· Eliminar con agua y jabón
(max. 1 hora y repetir 2-3 horas después)
· Larga adherencia entre molduras y techos o paredes
· Pintable después de endurecimiento (min. 24 horas)
· Limpiar con acetona o disolvente sintético
DecoFix lijmen | Colles DecoFix | DecoFix Kleber | DecoFix Adhesivos
· Eliminar con una esponja o paño húmedo
· Puede pintarse después de 24 horas
· Debe guardarse en un ambiento seco
· Cuanta más humedad, más rápida la duración de secado
Interior, porous and dry surface
Exterior, non-porous and humid surface
· Pintable después de endurecimiento (min. 24 horas)
Binnen, poreuze en droge ondergronden |
Buiten, niet-poreuze en vochtige ondergronden
Pose à l'intérieur, surfaces poreuses, pièces
à l'extérieur, surfaces non poreuses, environnement
non humides | Innen, poröse/saugfähige
humide | Außen, nicht-poröser/saugfägier Untergrund
und trockene Untergründe | Interior,
und Feuchträume | Exterior, superficies no porosas,
superficies porosas y secas
ACCESSORIES
| Toebehoren | Accessoires | Zubehör | Accesorios
Strong, water-based acrylic installation adhesive
Very strong MS-Polymer-based installation
FDP600 4200ml | 65 > 110m
Adherencia techos/paredes
*For Basixx: use DecoFix Pro for joints
Joints between mouldings*
Voor Basixx: gebruik DecoFix Pro voor de naden | Pour Basixx: utilisez
Verbinding tussen profielen
DecoFix Pro pour les joints | Für Basixx: verwenden Sie DecoFix Pro für die
Stoßstellen | Para Basixx: utilice DecoFix Pro para las uniones entre piezas
Nahtverbindungen zwischen Profilen
FX210 tube 80ml | min. 20m
INSTALLATION VIDEOS & MANUALS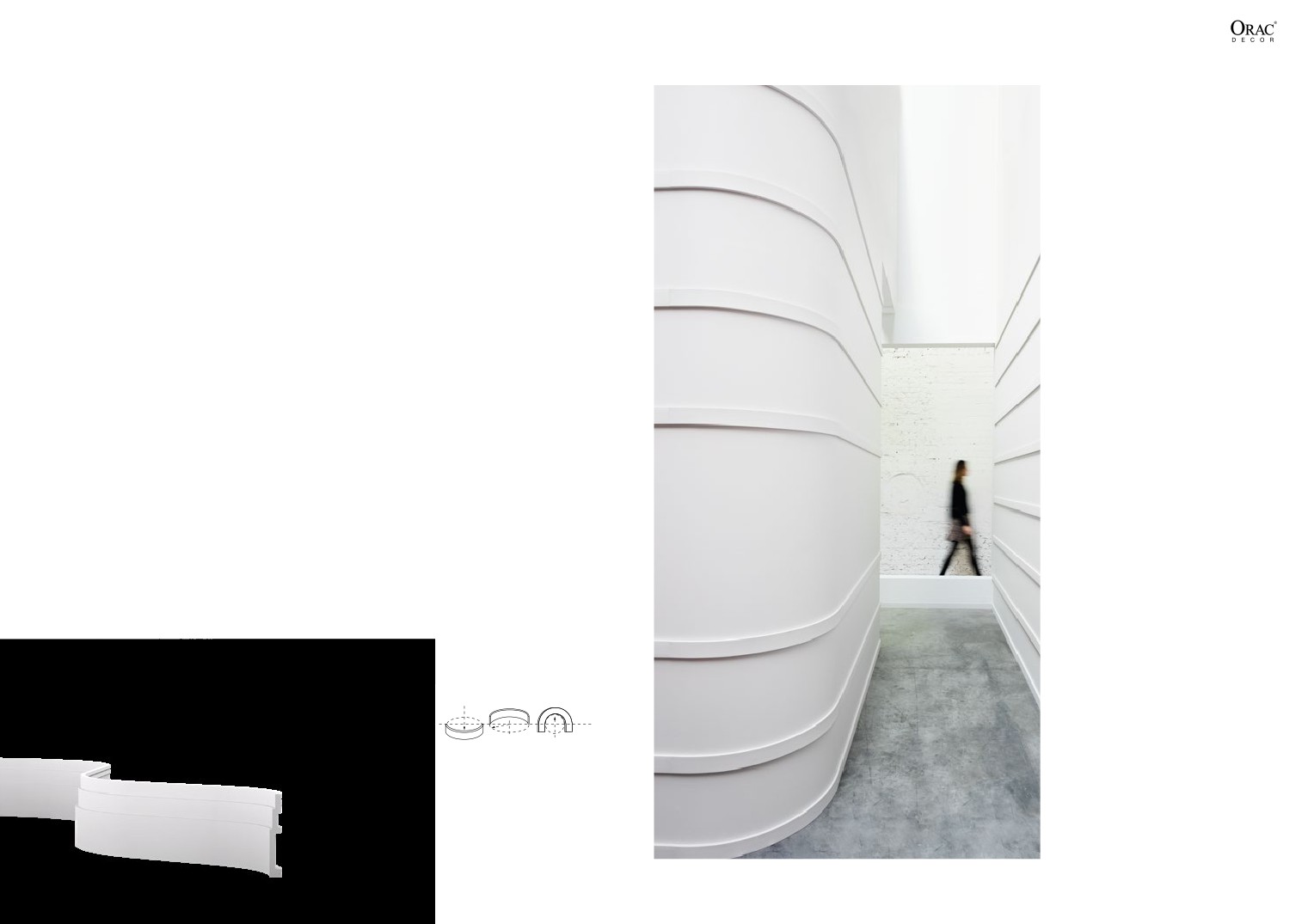 A wide range of cornice mouldings, panel
mouldings and skirting boards are available
to give curved walls and ceilings an elegant
finish. These elements are also light and can
The sky is the limit: add curved lines and
circles to your walls and ceilings in no time.
Een groot aantal kroonlijsten, wandlijsten
en plinten zijn verkrijgbaar in een
flexibele variant. Ook gebogen wanden
en plafonds kunnen zo elegant worden
afgewerkt. Ze zijn bovendien ook licht en
Je kan het zo gek niet bedenken: gebogen
lijnen en cirkels zet je zonder enige moeite
De nombreuses corniches, cimaises et
plinthes sont disponibles dans des modèles
variés. Les murs et plafonds courbes
peuvent également bénéficier d'une finition
élégante. En outre, ils sont clairs et peuvent
Vous n'auriez jamais imaginé qu'il serait
aussi facile d'installer des lignes courbes et
des cercles au mur et au plafond.
Sehr viele Fries-, Wand- und Sockelleisten
sind in flexibler Ausführung erhältlich. Auch
geschwungene Wände und Decken lassen
sich so elegant verschönern. Zudem sind sie
leicht und können überstrichen werden!
Unvorstellbar! Auch geschwungene Linien
und Kreise lassen sich problemlos an
Wänden und Decken anbringen.
Hay disponible una variante flexible para
una gran variedad de cornisas, molduras
y zócalos Así, también se puede dar un
elegante acabado a paredes y techos
arqueados. ¡Además, son ligeros y están
Todo lo que pueda imaginar: coloque
Discover our flexible collection.
líneas arqueadas y círculos sin problema en
Ontdek onze flexibele collectie.
Découvrez notre collection flexible.
Entdecken Sie unsere flexible Kollektion.
Descubre nuestra colección flexible.